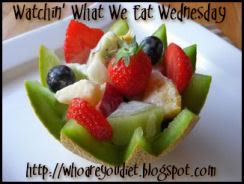 I have been swamped! I can't explain it to you all. I feel like I can't get everything done I am suppose to and here I forgot to post Watchin' What We Eat Wednesday! I made a list and try to prioritize all of the important things but I still can't fit everything in and I feel so overwhelmed! I thought that with the twins going to school for 3 hours a day that I would get so much done but it just has not worked out like that! :( I gained 5 pounds two weeks ago and I stayed on plan and I think that has frustrated me too! I lost 4.4 at last night's meeting. Anyways here is WWWEW Cookie Edition, share your cookie recipes! Come share your lightened cookie recipes!
Mini Chocolate-Chip Cookies
2 Tbsp butter, softened
2 tsp canola oil
1/2 cup dark brown sugar
1 tsp vanilla extract
1/8 tsp table salt
1 large egg white(s)
3/4 cup all-purpose flour
1/4 tsp baking soda
3 oz semi-sweet chocolate chips, about 1/2 cup
1.Preheat oven to 375ºF.
2.In a medium bowl, cream butter, oil and brown sugar together. Add vanilla, salt and egg white, and mix together thoroughly.
3.Mix together flour and baking soda. Add chocolate chips and stir to distribute evenly.
4.Drop rounded half-teaspoons of dough onto a nonstick baking sheet. Bake cookies for 4 to 6 minutes, then cool on a wire rack. Yields 2 cookies per serving.
Makes 24 cookies
Serving Size-2 cookies at 1 Weight Watchers POINTS®-1
RR: I like to do activities with the kids during the day and here is one recipe I have had for awhile that I have been wanting to try. The kids loved making these. They are really easy to make and taste GREAT! I have not had a homemade chocolate chip cookie in 6 months and it was so good. Each cookie is about 3 bites. Totally worth the points or should I say POINT lol!