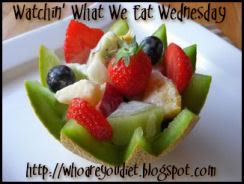 Welcome to Watchin' What We Eat Wednesday! This week is any recipe goes. Next week is lightened cookies edition.
Here
you can find the upcoming themes so you can plan ahead. If you can't find a theme related recipe just post something don't feel bad. Sharing is what this meme is all about! To enter your recipe, just sign your name onto the Mr. Linky provided at the bottom and put your recipe title in parentheses, like this Lorie (Cheesy Vegetable Soup). Here's my recipe!
Cheesy Vegetable Soup

Makes 10 servings
2 lb of frozen veggies - your choice--California Medley is good
3 cans Fat-Free Chicken Broth
10 oz. Light Velveeta

Dump all ingredients except cheese in the pot and bring to a boil. Let simmer for 4-5 minutes. Add 10 oz of Light Velveeta in small pieces (to melt faster). When it's melted in, you're ready to eat.
SERVING SIZE: 1 cup
POINTS: 1
Note: Some people like one serving over a baked potato.