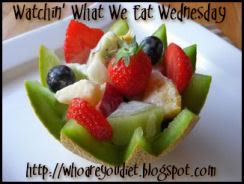 Welcome to Watchin' What We Eat Wednesday! This week is any recipe goes. Next week is lightened meals that freeze well edition.
Here
you can find the upcoming themes so you can plan ahead. If you can't find a theme related recipe just post something don't feel bad. Sharing is what this meme is all about! To enter your recipe, just sign your name onto the Mr. Linky provided at the bottom and put your recipe title in parentheses, like this Lorie (Fat Free Rice Krispy Treats). Here's my recipe!
This is a little different recipe than I was using for
Fat Free Rice Krispy Treats
. These do not taste soggy like the other ones. I found these on line so I am giving you the link. They are quite yummy. You might want to check out CVS they have there campfire marshmallows on clearance!