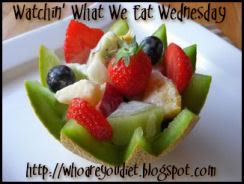 Welcome to Watchin' What We Eat Wednesday! This week is Crockpot Edition. Next week is any recipe goes.
Here
you can find the upcoming themes so you can plan ahead. If you can't find a theme related recipe just post something don't feel bad. Sharing is what this meme is all about! To enter your recipe, just sign your name onto the Mr. Linky provided at the bottom and put your recipe title in parentheses, like this Lorie (Crockpot Cheesy Chicken Spaghetti). Here's my recipe!
Crockpot Cheesy Chicken Spaghetti
Serves 12 ( one cup each)
16 oz. dry spaghetti, cooked
1 lb. Velveeta Light (2%)Cheese
12.5 oz can chicken breast, drained & flaked
1 can 98% FF cream of mushroom soup
1 can 98% FF cream of chicken soup
10 oz. can diced tomatoes & green chilies (Rotel)
4 oz can mushroom stems & pieces, drained
1/2 cup water
1 small onion, diced
1 med. green pepper, diced
salt & pepper to taste
Spray slow cooker with non-stick cooking spray. Combine all ingredients in slow cooker and stir to mix well. Cook on LOW for 2-3 hours. Stir again just before serving.
Nutrition Info:286 Cal., 5.7 g Fat, 2.7 g Fiber
Recipe From:
halfmysize