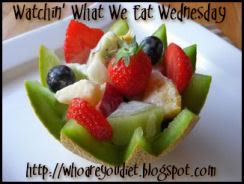 I somehow missed last week so we are going to do Thanksgiving this week. Thanks to all who continue to participate! Welcome to Watchin' What We Eat Wednesday! Next week is Soups Edition.
Here
you can find the upcoming themes so you can plan ahead. If you can't find a theme related recipe just post something don't feel bad. Sharing is what this meme is all about! To enter your recipe, just sign your name onto the Mr. Linky provided at the bottom and put your recipe title in parentheses, like this Lorie (Green Bean Casserole). Here's my recipe that I will be making this Thanksgiving!
Green Bean Casserole (It's more like a stuffing)
1 can French style green beans
1 box Stove Top Stuffing(don't add anything to it)
1 can 98% Fat Free Cream of Chicken Soup
Mix all ingredients and place in an 8 X 8 pan Cook in a 350 degree oven for 25 minutes.
9 Weight Watcher points for the whole pan.