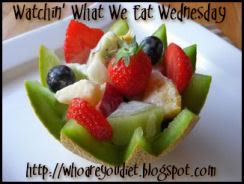 Welcome to Watchin' What We Eat Wednesday! This week is any recipe goes. Next week is Thanksgiving Edition.
Here
you can find the upcoming themes so you can plan ahead. If you can't find a theme related recipe just post something don't feel bad. Sharing is what this meme is all about! To enter your recipe, just sign your name onto the Mr. Linky provided at the bottom and put your recipe title in parentheses, like this Lorie (Pumpkin Smoothie). Here's my recipe!
Pumpkin Smoothie
1/2 cup canned pumpkin
3/4 cup skim milk
1/2 tsp cinnamon
dash nutmeg
1 TBS Splenda
2 tsp brown sugar
6 ice cubes
Combine all ingredients in blender and blend until smooth.
Yield: 1 serving= 105 Calories; 1g Fat (4.2% calories from fat); 7g Protein; 19g Carbohydrate; 1g Dietary Fiber; 3mg Cholesterol; 100mg Sodium. Exchanges: 1/2 Grain(Starch); 1/2 Non-Fat Milk; 0 Fat; 1/2 Other Carbohydrates.