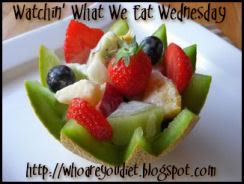 Welcome to Watchin' What We Eat Wednesday! This week is the Halloween Edition. Next week is any recipe goes. Here you can find the upcoming themes so you can plan ahead. If you can't find a theme related recipe just post something don't feel bad. Sharing is what this meme is all about!
I really hope people have not totally quit on me because I love getting to see new recipes and I love Halloween and would love to see what you all come up with on lightened treats for Halloween. Here is a great article about surviving Halloween too!
To enter your recipe, just sign your name onto the Mr. Linky provided at the bottom and put your recipe title in parentheses, like this Lorie (recipe name here).
First, here is a list of a lot of Halloween candy and the nutritional facts and Weight Watchers Points, this might help you decide what you want to eat on Halloween if you really want to eat something on Halloween.
Rolo Pretzel Turtles
Rolo chocolate candies
Mini pretzels
Halloween M&Ms
Preheat your oven to 350 . Upwrap your Rolos and set aside. Place pretzels on baking sheet. Top with a Rolo. Bake in oven for 3-5 minutes, until the chocolate just begins to melt. The Rolo should be soft but not completely melted. Remove from oven, place on cooling rack and immediately squish the chocolate with a Halloween colored M&M if you want. Watch the caramel oooze out.