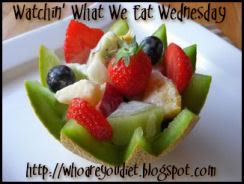 Welcome to Watchin' What We Eat Wednesday! This week is Breakfast Edition. Next week is any recipe goes.
Here
you can find the upcoming themes so you can plan ahead. If you can't find a theme related recipe just post something don't feel bad. Sharing is what this meme is all about! To enter your recipe, just sign your name onto the Mr. Linky provided at the bottom and put your recipe title in parentheses, like this Lorie (Cinnamon French Toast). Here's my recipe!
Cinnamon French Toast
1 cup Egg Beaters
1/3 cup fat free milk
1 tsp ground cinnamon
1 tsp vanilla extract
non-stick spray
10 slices of bread ( I used the Sarah Lee 35 calorie bread)
Whisk together Egg Beaters, milk, cinnamon, and vanilla is shallow medium bowl; set aside. Spray non-stick skillet with cooking spray; heat over medium. Dip bread in egg beaters mixture, coat both sides. Put in skillet and cook on both sides until golden brown.
Serving size is 2 slices
I served mine with sugar free syrup and a banana
Calories 191 Fat 2 Fiber 6