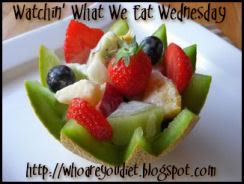 Welcome to Watchin' What We Eat Wednesday! This week is anything goes week. Next week is Crockpot Edition. Here you can find the upcoming themes so you can plan ahead. If you can't find a theme related recipe just post something don't feel bad. Sharing is what this meme is all about! To enter your recipe, just sign your name onto the Mr. Linky provided at the bottom and put your recipe title in parentheses, like this Lorie (Apple Streusel Cupcakes). Here's my recipe! Recently I got a LOT of apples given to me and here is one thing that I made with them. I have LOTS in my freezer. Funny thing I forgot the oil. It tasted GREAT without it!

Apple Streusel Cupcakes (from Weight Watchers Winner's Circle Cookbook page186)
1 box spice cake mix
1 cup water
¼ cup applesauce, unsweetened
3 egg whites
2 tablespoons canola oil
1 Granny Smith Apple, peeled, cored and finely chopped
6 tablespoons packed light brown sugar
Preheat oven to 350 degrees. Spray 18 muffin pan cups with nonstick spray. With an electric mixer on medium speed, beat the cake, water, applesauce, egg whites, and oil in a large bowl just until blended. Fold the apple into the batter. Spoon batter into cups, filling each about two-thirds full. Sprinkle each cupcake with 1 tsp. brown sugar. Bake until topping is golden brown and a toothpick inserted in a cupcake comes out clean, 18-20 minutes. Cool the cupcakes in the pans on a rack 5 minutes; remove from the pans and cool completely on the rack.
Note: Use foil or paper liners instead of spraying the muffin cups with nonstick spray. You won't have to cool the cupcakes in the pan before removing them and cleanup is a bit easier. Store the cooled cupcakes in an airtight container at room temperature for up to three days. Or wrap and freeze the cupcakes for up to three months.
NI: 161 calories, 5 g fat, 0 g fiber (4 Weight Watchers Point per serving)
Variation: use chopped fresh peaches or drained canned crushed pineapple instead of apples.