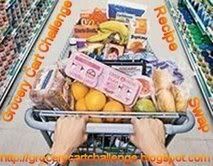 Here's my recipe. I make things lower fat etc because I am doing Weight Watchers and you could lower the cost of this recipe by not using those things. We try to have this once a week and it is super easy! It is also one of my kids most asked for meals!
Spaghetti Casserole Bake
12 oz box Reduced Carb Rotini
2 (26 oz) cans traditional Spaghetti Sauce
1 pound lean ground beef
1 cup pizza blend regular fat cheese
Preheat oven to 350 degrees. Pre-cook pasta 6-8 minutes in boiling water. Brown beef in a skillet. Combine pasta beef and sauce together. Place in a casserole dish sprayed with nonstick cooking spray, and top with cheese. Cover with foil and bake for 45 minutes.
Makes 6 HUGE servings
Visit Gayle for more Grocery Cart Challenge recipes or click on the grocery cart at the top of this post!