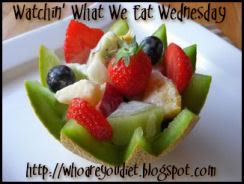 Welcome to Watchin' What We Eat Wednesday! This week is salads edition. Next week is any recipe goes.
Here
you can find the upcoming themes so you can plan ahead. If you can't find a theme related recipe just post something don't feel bad. Sharing is what this meme is all about! To enter your recipe, just sign your name onto the Mr. Linky provided at the bottom and put your recipe title in parentheses, like this Lorie (Caramel apple Salad).
Here's my recipe:
CARAMEL APPLE SALAD
(20 oz) can crushed pineapple, in juice
4 medium apples, chopped
1 box (1 oz) sf instant butterscotch pudding
1 (8 oz) container Fat Free Cool Whip
Puree pineapple in the blender. Mix pineapple and pudding mix together. Fold in Cool Whip. Fold in Apples. Place in refrigerator for 8 hours or overnight to chill.
Serves 8 (1 cup each)
NI: 139 calories, 0 ft, 2 fiber