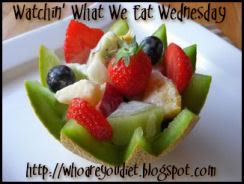 Welcome to Watchin' What We Eat Wednesday! This week is any recipe goes. Next week is salads edition. Here you can find the upcoming themes so you can plan ahead. If you can't find a theme related recipe just post something don't feel bad. Sharing is what this meme is all about! To enter your recipe, just sign your name onto the Mr. Linky provided at the bottom and put your recipe title in parentheses, like this Lorie (Junior Mint Brownies).
Here's my recipe. I thought they were super yummy!

Junior Mint Brownies
Recipe By: Cooking Light
Servings: 16
Cooking spray
1/4 cup butter
3 ounces Junior Mints -- about 32
1 cup all-purpose flour
1/4 teaspoon baking soda
1/8 teaspoon salt
2/3 cup sugar
1/3 cup unsweetened cocoa
1 large egg
1 large egg white
Preheat oven to 350 degrees. Coat bottom of an 8-inch square baking pan with cooking spray. Combine butter and mints in a 2-cup glass measure; microwave at high 30 seconds or until soft. Stir until smooth, and set aside. Lightly spoon flour into a dry measuring cup, and level with a knife. Combine flour, soda, and salt in a bowl. Combine sugar, cocoa, egg, and egg white in a large bowl; beat at medium speed of a mixer until well-blended. Add mint mixture; beat well. Add flour mixture; beat at low speed just until blended. Pour batter into prepared pan. Bake at 350 degrees for 20 minutes or until a wooden pick inserted in center comes out clean; cool completely on a wire rack.
Note: Two large (1.5-ounce) mints or 6 miniature chocolate-covered peppermint patties (such as York) may be substituted for 32 Junior Mints.
Per Serving: 120 Calories; 4g Fat; 2g Protein; 20g Carbohydrate; 1g Dietary Fiber; 19mg Cholesterol; 75mg Sodium.