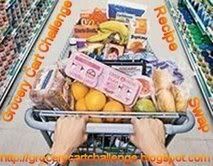 I just got back late last night, but I wanted to include my recipe for the Grocery Cart Shopping Challenge Recipe Swap where we share thrifty recipe. It is hosted by Gayle at the
Grocery Cart Shopping Challenge
blog! This week is all about potlucks. So here is my recipe. If I know it is a big crowd, I will make more than one.
~
Corn Fritter Casserole
3 Tbsp butter
3 egg whites
8 oz fat free cream cheese, softened
1/2 cup onion, finely chopped
1/2 cup bell pepper, finely chopped
1 box Jiffy Corn Muffin Mix
15 1/4 oz can sweet corn
15 1/4 oz cream-style corn
salt and pepper to taste
Preheat oven to 375. Combine first 3 ingredients in a large bowl, stirring with a whisk until smooth. Stir in onion, bell pepper, whole-kernel corn, and cream-style corn; mix well. Add muffin mix and black pepper and salt, stirring until well combined. Pour into an 11 x 7-inch baking dish coated with cooking spray. Bake at 375 for 50 minutes or until a wooden pick inserted in center comes out clean.
Serves 9 (2/3 cup each)
250 Calories, 8g Fat, 2g Fiber
~
To see more Grocery Cart Challenge Recipes go
here
!