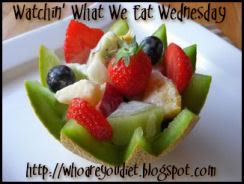 Welcome to Watchin' What We Eat Wednesday! This week is lightened desserts edition. Here you can find the upcoming themes so you can plan ahead. Next week is anything goes. If you can't find a theme related recipe just post something don't feel bad. Sharing is what this meme is all about! To enter your recipe, just sign your name onto the Mr. Linky provided at the bottom and put your recipe title in parentheses, like this Lorie (Chips Ahoy Dessert).
Here is my recipe! It has been my favorite dessert since starting Weight Watchers! The funny thing is I have made it many times and never taken a picture. It gets gone that FAST!
Chips Ahoy Dessert
1/2 cup fat free milk
18 reduced fat Chips Ahoy Cookies
2 cups fat free milk
1 8 oz. fat free Cool Whip
1 small box chocolate fat free, sugar free pudding mix
Pour 1/2 cup of the milk in a shallow bowl. Dip 9 cookies in the milk very briefly and line 8 X 8 dish with them. Take 1/2 the Cool Whip and spread over cookies. Mix the chocolate pudding with 2 cups milk. Layer over top of Cool Whip. Dip next 9 cookies in the milk and lay on top of pudding. Top with remaining Cool Whip. Refrigerate at least 2 hours before serving.
Makes 9 servings, 2 WW points each.
Jen recommends drizzling a small amount of Sugar Free Carmel Sauce over the top. She says it does not add any points.
Variations:
Lemon-Use Sugar Free Fat Free Lemon Pudding and Reduced Fat Pecan Sandies. This will be a higher point value.
Banana- Use Sugar Free Fat Free Banana or Vanilla Pudding and an extra layer of sliced bananas and Reduced Fat Vanilla Wafers