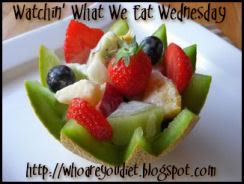 Welcome to Watchin' What We Eat Wednesday Week #5. This week is any recipe goes week. Remember to link to your blog by signing Mr. Linky and putting your recipe name in parentheses like this, Lorie (Overnight Stuffed French Toast) Come back next week for the Beverages Edition.
Here
you can find the upcoming themes so you can plan ahead. If you can't find a theme related recipe just post something don't feel bad. Sharing is what this meme is all about!
Now onto my recipe. I made this special breakfast for my family last weekend. It was super yummy! I hope you enjoy.
Overnight Stuffed French Toast
1 (16 oz.) Loaf of French Bread, cut into 20 slices
1 (8 oz.) Package Fat Free Cream Cheese, cut into 1/4" thick slices
3 Cups Egg Substitute
2 Cups Skim Milk
1 teaspoon Vanilla Extract
1/3 Cup Sugar Free Maple Syrup
1/2 teaspoon Cinnamon
Spray a 9X13 baking dish with non-stick cooking spray. Layer 10 slices of bread in the bottom of the baking dish (You may need to cut some to fit). Top the bread evenly with cream cheese slices, then place the remaining bread slices on top. In a large bowl, wish together the egg substitute, milk, vanilla, syrup and cinnamon. Pour over the bread to evenly coat. Cover with plastic wrap and refrigerate for 8 hours or overnight. Remove from the refrigerator and let stand at room temperature for 15 minutes while the oven preheats to 350 degrees. Bake for 1 hour or until liquid is absorbed and the French toast is set in the center. If the top gets too brown, lay a sheet of foil over the baking dish. Cut into 9 pieces. Serve with sugar free syrup for additional points.
Serves: 9
Per Serving: 224 Calories 2g Fat 2g Dietary Fiber