It is time for
Favorite Ingredients Friday
. Today is Refreshing Drinks Edition 2. It has already been so hot here in Kentucky so a refreshing drink sounds GREAT! Trying to eat healthier makes it harder to pick a cool refreshing snack or dessert, so I tried out some new smoothies. This is one I LOVE! It taste just like an Almond Joy candy bar, well almost!
lol
! Anyone can go to a Weight Watchers meeting and buy smoothies unless the site is a privately owned. I like to use the Weight Watchers smoothies because they are loaded with dairy and when added with fat free milk, you can count the drink as your 2 dairy servings. Getting those servings of dairy is part of the Weight Watchers program. I am also going to give you a recipe that you can make it without using the Weight Watcher smoothie mix. At my site, for the next couple of weeks the smoothie boxes are on sale for $5.00 they are usually $7.50 a box and the box has 7 packets in it. I hope you enjoy this cool treat! I know I shared this not too long ago, but right now it really is my favorite refreshing drink!
WW Almond Joy Smoothie
1 Weight Watchers Chocolate Smoothie Mix
1 cup fat free milk
1/2 tsp almond extract
1/2 tsp coconut extract
8 ice cubes
Mix all of the ingredients in the blender and enjoy!
Made this way it is 3 Weight Watchers points and 2 dairy servings.
Almond Joy Smoothie #2
1 c. ff milk
1/2 small pkg. ff sf choc. pudding mix
1/2 teaspoon coconut extract
1/2
teaspoon
almond extract
8 ice cubes
Mix all of the ingredients in a blender and enjoy!
(I have tried this and it is also really good!)
Also 3 Weight Watchers Points but only 1 dairy serving.
Note: You can also use any flavor s/f f/f pudding mix to create a smoothie play around for one you might like.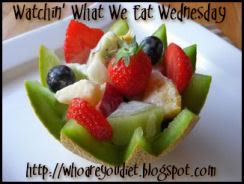 Please come back and visit me for my new meme Watchin' What We Eat Wednesday next week as we share healthy recipes. The theme next week is Fruits. To see yesterday's recipes from Watchin' What We Eat go
here
.