Well its time for another Fitness on Friday hosted by Natalie at
Bye Bye Fat Mom
! I had a really rough week last week because everyone of my kids got some kind of virus that gave them high fevers and they wanted to be held a lot. I exercised not one day last week (my week is Wednesday-Tuesday). I still ate well though! At my weight in, I lost another
1.6
pounds, I weighed in at
269
. That's
54.8
pounds! I only have .6 of a pound to reach another goal of getting my Weight Watcher's 10 percent keychain. (for those who do not know I lost 25 pounds doing WW at home before going to meetings) So, I am really excited about that. The only bad thing is because I have lost another 10 pounds I also lose another WW point. I am at 34 now. I guess this does not bother me as much as I thought it would, I am just so excited to say goodbye to the 270's. I really do not remember when I weight in the 260's in my life? So, things seem to be going well for me right now. I do find myself getting comfortable with the program and sometimes that really is not good because I think you can get too comfortable and bored with the program, that is why I like to try out new recipes every week.
My dh has been losing weight too and really not following the program, well he weighed himself the other day and realized he had gained back a lot of the weight that he had lost. Probably from eating food at work. They have board meetings once a month and have Fried Chicken and the eat on it for a couple days after. Well yesterday he started doing it the right way and asking me questions etc. So, I guess he is really doing it now. That really makes it a lot easier for me!
I also wanted everone to know about my new meme that I started last week. I had a big turnout for the first week of sharing healthy recipes. I'll put more info about that at the bottom of the post if you are interested in participating next week.
I also tried out several new recipes that I will put some links to in case you are interested.
Hope you have a great week!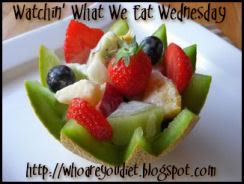 Please come back and visit me for my new meme Watchin' What We Eat Wednesday next week as we share healthy recipes. The theme next week is Fruits. To see yesterday's recipes from Watchin' What We Eat go
here
.