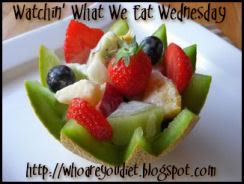 Today
Watchin
' What We Eat Wednesday is all about fruit! I picked fruit for our first theme because there is so much fruit in our
WWWEW
banner. Next week you can pick any recipe you want.
Here
you can find the upcoming themes so you can plan ahead.
Just go post your fruit themed recipe on your blog and come back here and click on Mr. Linky to link up. When you put your link in, please put the recipe name in parentheses like this Lorie (Apple Pie Enchiladas). That's it I can't wait to see all of your fruit recipes! And come back next week to share a recipe of your choice!
I would also like to thank Jen for making the code for me that you find on my sidebar. If you use that code, it will take people directly back to my site. Thanks again Jen!

Now onto my recipe. I found this recipe and was so excited! It is so good, even if you think cheese on a dessert does not sound good, believe me it is good. I find the Laughing Cow Cheese wedges in the deli section at Walmart.


Apple Pie Enchilada
1 medium sized apple - cored, peeled, and chopped
1 Light Laughing Cow Wedge (Swiss flavor)
1 Tortilla, whole wheat or other 1 point tortilla
Cinnamon
Splenda **optional**
Put peeled, cored, and chopped apple in a bowl and toss with Cinnamon and Splenda (if desired). Microwave for 3 minutes, or until soft. While your apple is cooking, spread your Laughing Cow cheese wedge on your tortilla. Spoon the cooked apple pieces into your tortilla. You can either just let it sit for about a minute to "melt" the cheese, or you can microwave for another 30 seconds. (I microwaved mine and I think it made the tortilla better) Fold over. Eat and enjoy!
**Note: You can also top it with 2 Tbsp Fat Free Cool Whip!
(Points will depending on the size of apple and kind of bread product you use- mine was 3 points)