Last week I tried several new recipes. Here they are and a link to each:
Cinnamon French Toast
,
Luscious Lemon Smoothie
,
Fat Free Rice

Krispy

Treats
, Crustless
Dreamsicle Pie
,
Almond Joy Pudding
. Come back this week to get the recipes for the new things I am trying. Here is this week's menu.
Dinners
Monday:
Spaghetti Casserole Bake
Tuesday:
Crockpot

Cheesy Chicken Spaghetti
Wednesday:
Southwestern Cheesy Chicken Skillet
Thursday:Sweet and Sour Chicken
Friday:
Mom's Pizza
Saturday: Eat out
Sunday:
Bruschetta

Chicken Bake
Breakfast
Low fat waffles and fruit
,
Southwestern egg, sausage and cheese biscuit
,
Cinnamon French Toast
, Cottage Cheese Pancakes, and Cottage Cheese Danish
Lunch
Ranch Chicken Salad
,
Refried

Beans Soup
, and leftovers
Snacks, desserts and kid activities: Chocolate Eclair Dessert, Chex Party Mix, Fat Free Rice Krispie Treats, Mini Chocolate Chip Cookies, Key Lime Pie, and Butterscotch Bars
Go here to see more plans.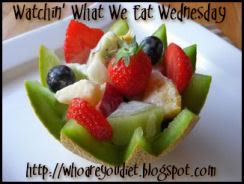 Please come back and visit me for my new meme
Watchin
' What We Eat Wednesday this week as we share healthy recipes. The theme this week is Fruits. To see last week's recipes from
Watchin
' What We Eat go
here
.